ISLAMIC TERRORISM: MASS SHOOTING 14 DEAD SAN BERNARDINO CA ONE SHOOTER IS SYED FAROOK PER COPS ISIS CELEBRATES WITH #AMERICA-BURNING HASHTAG-WHAT NOW OBAMA?
Wednesday, December 02, 2015

Let's see here, we got 2 Muslims with high powered AR-15 semi auto rifles, over 4,000 rounds of ammo, multiple pipe bombs, a large 'rented' SUV, male Muslim recently went to Saudi Arabia, male Muslim is Suni Muslim, the massacre required surveillance, planning and co-ordination, multiple pipe bombs were also found in their apartment and in the SUV, and did we say Muslims. Sounds just like the Islamic terror attack in Paris, and Obama is Going to Call San Bernardino Massacre Work Place Violence and Give Muslim Terrorists A Pass just one more time, If it Could Happen There it Could Happen in St Louis or Even Sarasota Fl. UPDATE: THREE DAYS AFTER a heavily armed Muslim couple stormed a county office building to gun down 14 people, the FBI says it is investigating the murders as a 'terrorist act' — meanwhile, investigators confirm the female shooter, Tashfeen Malik, wife of gunman Syed Rizwan Farook, inset, posted online just before the attack her pledge of allegiance to Islamic State chieftain Abu Bakr al-Baghdadi–MUSLIM BASTARDS!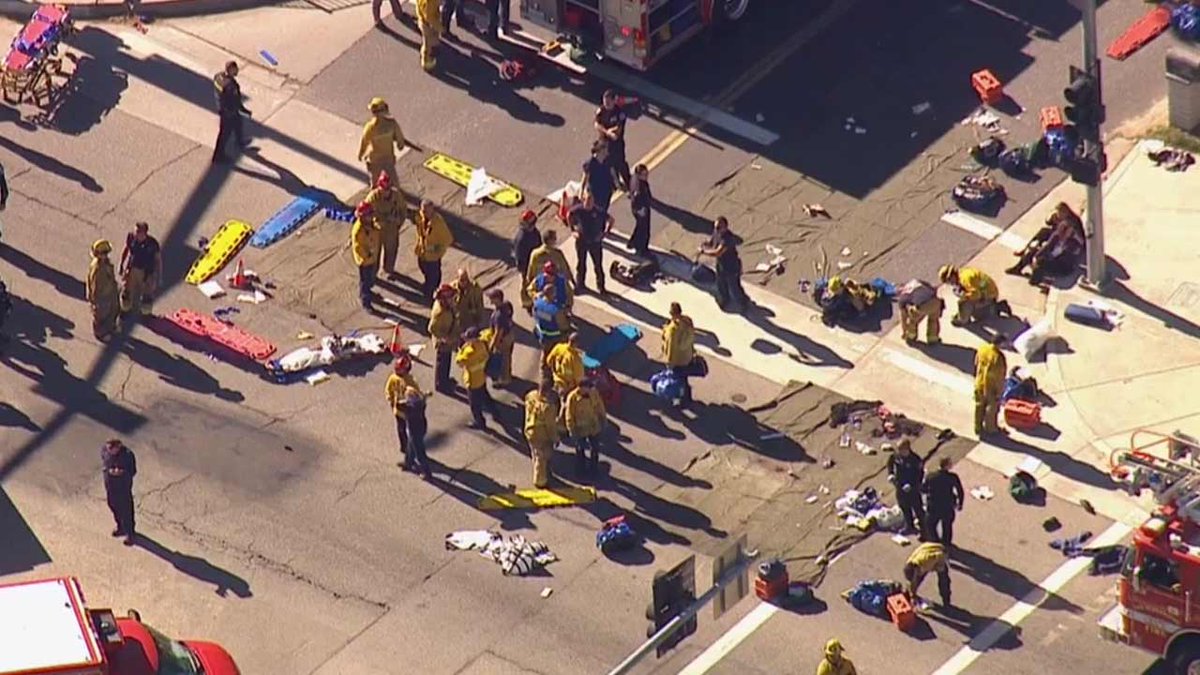 ISLAMIC TERRORISRM: MASS SHOOTING 14 DEAD SAN BERNARDINO CA ONE SHOOTERS NAME IS SYED FAROOK– PER SAN BERNADINO POLICE. Supporters of ISIS, the Islamic State, began celebrating the mass shooting with the #America_Burning hashtag. Riverside police dispatchers have broadcast a general advisory that the suspects involved in the shootings in San Bernardino may have fled in a black GMC Yukon, heading northbound on Waterman Avenue, roughly 40 minutes ago. The broadcast indicated there were unconfirmed reports the suspects were male and of Middle Eastern origin, "armed with AK-47s and wearing body armor." The broadcast was part of a region-wide alert issued by the San Bernardino Police Department. SYED FAROOK recently traveled to the Middle east and came back married.
ONE SHOOTER IS SYED FAROOK – PER SAN BERNARDINO POLICE, MILITARY STYLE ATTACK,  GUNMEN IN TACTICAL GEAR USING AK-47's AND CARRYING PIPE BOMBS, JUST LIKE THE TERRORIST ATTACK IN PARIS. NY TIMES Investigators believe there were three gunmen and one of them had worked at the facility and recently had a dispute with fellow employees, according to law enforcement officials. A witness has told police that although the gunmen had their faces covered, one of them sounded and appeared very similar to an employee, SYED FAROOK, who had left the facility earlier in the day."They had their appearances covered but a witness believed it had been someone who worked there," said one official.

SYED FAROOK
has been identified as the possible San Bernardino shooting suspect, who reports indicate walked into a medical facility for people with developmental disabilities and opened fire. The shooting took place at close to 11 a.m. in the 1300 block of South Waterman Avenue in the California city, taking place at a building identified as the Inland Regional Center. The facility is a state-run medical center that serves people with developmental disabilities, said Nancy Lungren, spokeswoman for the California Department of Developmental Services. Unconfirmed reports identified the suspect as SYED FAROOK, a name repeated on police scanners and reported from some American news outlets.
Supporters of ISIS, the Islamic State, began celebrating the mass shooting with the #America_Burning hashtag. However, there's been no "official" confirmation from the terrorist group that they're responsible. "Three lions made us proud. They are still alive," one ISIS supporter tweeted in Arabic, according to a translation from Vocativ. "California streets are full with soldiers with heavy weapons. The Unites States is burning #America_Burning #Takbir" "God is great and he the one to be praised for that," another posted on a darknet forum in Arabic. "This is hell with god's will."

Bill Warner Private Investigator Sarasota SEX, CRIME CHEATERS & TERRORISM at http://www.wbipi.com